Choosing the right trolling motor batteries can be challenging since many different kinds are available on the market. There are several factors to consider when choosing the best trolling motor battery.
Many different brands of batteries are available and used in trolling motors. Thus, selecting a reputable manufacturer is critical. Because this is crucial to one's business. This article will discuss what is the best trolling motor battery and the factors to consider when buying a trolling motor battery.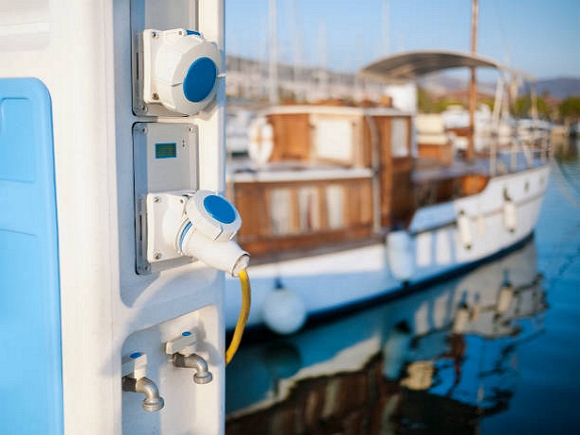 1. Polinovel 24V 200Ah LiFePO4 Bluetooth Battery
As an experienced lithium marine battery manufacturer, Polinovel produces batteries with many advanced functions, such as Bluetooth monitoring, remote power on/off, RS485/232 connection, and more. This BL battery has the potential to give customers the best experience.
The BL24200 lithium battery can be a good example to show you the scientific research ability of experts who are working in Polinovel. First of all, there is a Battery Management System (BMS) in this trolling motor battery to control its performance. Besides that, the BMS can also protect the battery from operating outside its safe operating area, monitor its status, compute ancillary data, and report that data. In other words, the use of BMS ensures the safety of Polinovel's lithium batteries so that you can use them with ease.
In order to cope with all kinds of bad weather and emergencies, Polinovel designed waterproof battery cases to protect the trolling motor battery from being short-circuited because of the water inflow. There is another advantage of this battery – the Bluetooth remote control function. When you want to check the parameters of the trolling motor battery, all you need to do is to start the mobile APP and check the battery status.
Pros of Polinovel Trolling Motor Battery:
● Keep track of the phone's battery status
● Remote control battery power switch
● System for intelligent battery management
● Concurrently test multiple batteries
● Longevity
● A solid structure
Bonus Tips: >> Considerations for Purchasing a Trolling Motor Battery
2. Universal Power Group 12V Battery
The battery is suitable for trolling motors since it offers continuous and reliable power. It is also quite durable and, with careful care, can last for years. This battery is also relatively cost-effective, which is an added bonus.
Many anglers appreciate the Universal Power Group Battery because it is spill-proof. The battery has a strong ABS plastic shell resistant to stress and vibration. It also features a low self-discharge rate, consumers can be confident that it will continue to work flawlessly even after extended years of storage. It is suitable for trolling, maritime, RV, solar, and camping applications.
Features of Universal Power Group 12V Battery:
● Impact and vibration resistance
● Consistent and dependable energy
● Rechargeable and capable of lasting for many years
3. Polinovel XT Series Batteries
XT series batteries in modification can benefit from design and installation adaptability without being constrained to a specific style due to their market-unique iron housing. Those batteries are designed for high-rate, short-duration run times, whereas VLA batteries provide a solid, long-lasting backup power supply for critical UPS power requirements.
The 24V 100Ah LiFePO4 Battery XT24100, for example, is a LiFePO4 XT24100 battery that uses high-quality lithium iron phosphate cells, has a 25.6-voltage battery with 100Ah, and has a detachable cover, all of which contribute to a great user experience. It can be found in golf carts, boats, trolling motors, RVs, and a variety of other uses.
The following features are included:
● Waterproof IP65 standard
● Intelligent battery management system
● Protective cap design
● High-quality LiFePO4 battery cell
● Smart BMS High
● Automatic Shutdown
4. 100 or 200 Amp Hour Lead Acid Battery Renogy
The Renogy deep-cycle hybrid gel battery can power trolling motors. This battery is not dual-purpose and will not start the boat's engine. On the other hand, this battery is available in capacities of 100 amp-hour and 100 amp-hour to power trolling motor batteries for extended periods.
The battery weighs 127.9 pounds and has a capacity of 200 amp-hours. It is better to purchase it with a specific need for huge batteries. To provide the required quantity of power, two 100 amp-hour batteries can be linked in parallel or in series.
This battery is intended to last up to twelve years. It is rated for over 750 charging and discharging cycles. This battery is great for trolling motors, the principal engine on electric-only lakes. It can be used with a wide range of systems, off-grid, RV, including marine, van, and home backup power.
Features of This Lead Acid Battery:
● Outstanding discharge performance
● Monthly self-discharge rate
● It is suitable for appliances requiring a high starting current
● It can also work even when the temperature is extremely high or low
Related Post: >> Lead Acid VS. Lithium Ion Battery: Which One is Better for You?
5. VMAX MR137-120 AGM
This Vmax battery is perfect for trolling under challenging situations. It is designed for maintenance-free operation, so fishermen won't have to worry about it. It is optional to check the specific gravity of the electrolyte every time.
In addition, the VMAX MR137-120 AGM has an electrolyte suspension mechanism and a high porosity AGM. This makes the battery resistant to shock and vibration.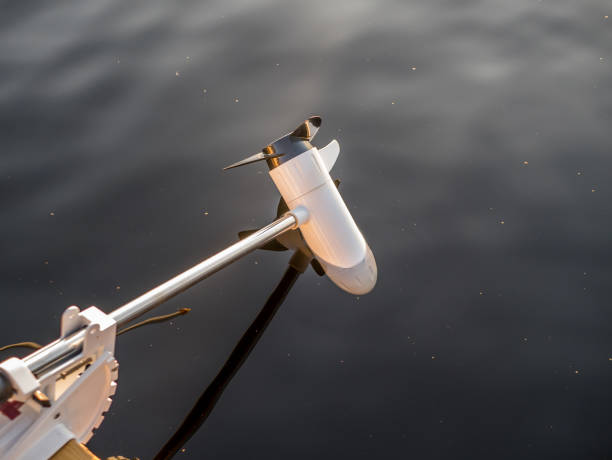 Furthermore, this battery recovers quickly from repeated deep discharges. Customers can use it for an extended time without worrying about replacing it.
The following features are included:
● Rapid recovery after repeated deep discharge
● Long-lasting and worry-free
● Increases resilience to stress and vibration
● Uses an electrolyte suspension system and a high-porosity AGM
6. Polinovel 12V 300Ah LiFePO4 Battery AF12300
The Polivonel AF series battery, such as the 12V 300Ah LiFePO4 Battery AF12300, may provide powerful capabilities such as Bluetooth monitoring and RS485/232 interface. It is widely utilized in RVs, caravans, recreational vehicles, solar energy systems, and other applications. Moreover, this product is one of the best trolling motor batteries.
Lithium Iron Phosphate (LiFePO4) Batteries are a type of lithium-ion (Li-Ion) rechargeable battery. Higher power output, faster charging, lower weight, and a longer lifespan distinguish them from traditional cobalt-based Li-Ion batteries.
The following features are included:
● Advanced BMS
● High Capacity
● Simple connection
● IP65 waterproof
7. Interstate Batteries 12V 35AH
This Interstate battery is perfect for smaller vessels like ocean kayaks. This battery weighs less than 10 kg and is ideal for high-demand mobility. It also has a 12V 35 AH capacity and uses VRLA technology. As a result, there is no need to bother with maintenance.
This battery's internal lead plates are thicker than others. This allows for longer AGM cycle life and more trolling motor utilization. The battery requires no maintenance, which means that there is no need to worry when it comes to overheating or spills.
The following features are included:
● Internal lead plates are thicker for greater deep-cycle AGM work
● It eliminates spills and overpressure while requiring minimal maintenance
● Long service life for deep discharge applications
8. Polinovel 12V 240Ah Lithium Battery HD Series
Because of its numerous valuable features, such as automatic heating, Bluetooth, and automatic cutoff, the HD series has a broad customer base. Furthermore, the GPS and WiFi features are developing to give the HD series more intelligent options, pushing the boundaries of innovation to benefit a more extensive consumer base.
This HT12240 lithium battery is built to last and comes with dual protection and Bluetooth monitoring capabilities. It is also commonly used in trolling motors, recreational vehicles, and other applications.
The following features are included:
● Bluetooth monitoring feature
● Dual protection BMS + safe board
● Allows for series or parallel connections
● Screw fastening structure with a patent
9. ExpertPower 12v 33ah
ExpertPower's battery has a capacity of 12 volts and 33 amps. Because it uses AGM technology and has a high discharge rate, it can efficiently fuel a 10-hour fishing trip. Because it includes all the necessary components, this battery is simple to install.
This battery is not only user-friendly, but it also has a carrying handle for portability. With this little but powerful battery, the trolling motor can be at high speed for an extended time. Furthermore, it has a wide temperature range for hot and cold climates.
The following features are included:
● Easy to set up and move
● With a compact and robust design
● The temperature range is broad
● Quality assurance
● Batteries with valves
● Genuine professional energy battery
10. Polinovel Lithium Battery 12v 300ah
Polinovel 12-volt lithium-ion lifepo4 battery packs are widely used in RVs, motorhomes, caravans, and campers. The battery capacity ranges from 50Ah to 300Ah. Bluetooth monitoring, RS485/232 interface, and low-temperature charging are among the functions available.
Lithium-ion batteries, such as the XT12300, can change their voltage to 24 Volts, 36 Volts, and other voltages. The Polinovel lifepo4 battery is waterproof to IP65 requirements and salt spray resistant. It is used in marine, trolling motor, and boat applications.
The following features are included:
● Excellent performance in a challenging environment
● System for intelligent battery management
● Technical solution adaptation
Bonus Tips: Considerations for Purchasing a Trolling Motor Battery
Choosing the best batteries to power marine equipment is one of the challenging aspects of sailing. When selecting the best trolling motor battery, keep the following factors in mind.
1. Durability
The trolling motor's battery is critical to the motor's longevity. When operated correctly, the trolling motor's battery should survive many years.
2. Recharging
As a matter of importance, checking the current battery is always essential for evaluating its reserve capacity over time.
The battery's reserve capacity is reached when the voltage falls below 10.5V at 25 amps and 80 degrees Fahrenheit. Variable charging speeds are available on some clever chargers. If the trolling battery charger is smart, the speed may need to be adjusted.
3. Size
The battery life is directly proportional to the battery's capacity when it comes to deep trolling motors. Consider the battery's current draw and amp hour rating (Ah) when wanting to last for a more extended period.
Despite this, a battery with 35 amp-hours or 70 amp-hours is more than adequate for a kayak or other small boat. The amount of amp hours a battery has is directly proportional to how long it will last.
4. Lifespan
The best choice would be to go with a lead-acid AGM battery that is of good quality, does not require regular maintenance, and has a long service life. This is the best alternative to avoid buying batteries every year.
5. Brand
Picking the right brand of the motor battery can take time and effort. Companies such as Polinovel are known for consistently producing high-grade trolling motor batteries. These firms are well-known for making high-quality batteries that can be relied on and have a long lifespan.
Investing in a battery for the trolling motor from a reliable retailer will ensure receiving a product of superior quality. In addition, a good guarantee should be included with the battery because it can be costly to repair batteries. The brand of the battery is also significant because some brands are known to be more dependable than others.
Conclusion
Consider the requirements outlined in this article when selecting a battery to go with your trolling motor. It is essential that the battery in a watercraft used for trolling be of good quality and have a long lifespan to supply consistent power.
In addition, if you are interested in launching a firm in this industry, forming a partnership with Polinovel is the best choice. This company specializes in lithium batteries and combines design, development, and manufacture.
The company offers lithium batteries that are reliable, safe, and professional grade. These batteries provide applications with excellent performance, the highest possible amount of usable energy, and continuous power.
It will be easier for new enterprises to get off the ground with the help of the company's expertise. Contact Polinovel right away for more information on their products and services.