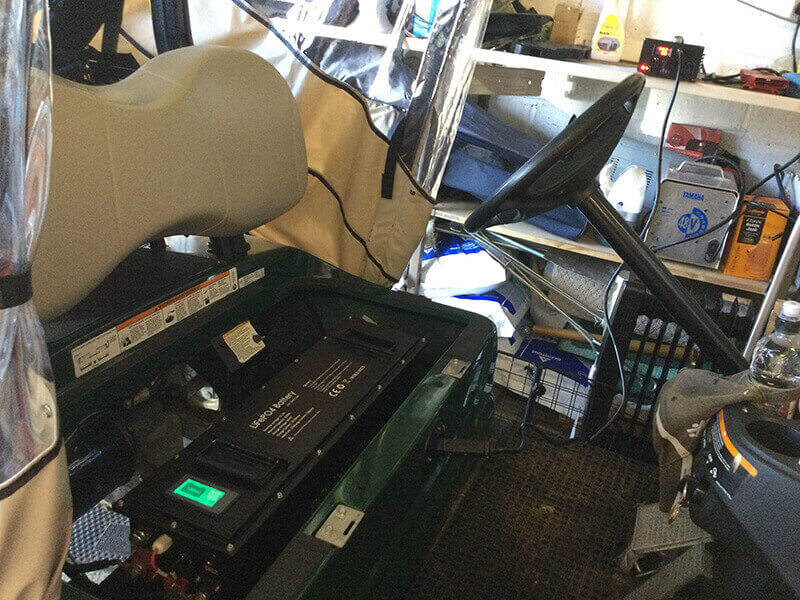 Overview
To gain a perfect fit size into the golf cart or buggy space is difficult for most lead-acid replacement ABS packaged lithium batteries in the market.
Generally, the size of the plastic case battery is not easy to change, and the customer has to make sacrifices on battery capacity, while the riding time and experience will be significantly affected. Customize lithium battery is a good choice. After comparing the benefits of changing new lead acid and upgrading lithium batteries, our client chose the latter and approached Polinovel to customize the lithium battery for his Yamaha golf buggy.
Results
According to the compartment size measured by the customer, we designed a package solution of 48V100Ah plus chargers to replace the original 4 Trojan lead-acid batteries. In addition, we embedded an LCD screen on the battery so that customers can freely check the battery condition when they need it, and a power switch to reduce the standby power consumption when the battery is not in use. Now the 2.6KW motor of the golf buggy is driving sufficiently by the lithium battery.
Feedback
The battery and charger are now fitted and the battery is excellent and performing very well. It is exceeding all my expectations, I can't thank you enough for all your help and advice throughout our time in the purchasing and manufacturing of both the battery and its charger. It is the envy of the Golf Club, so you may receive some interest in the near future. I have enclosed a few photographs of it fitted into my golf buggy.