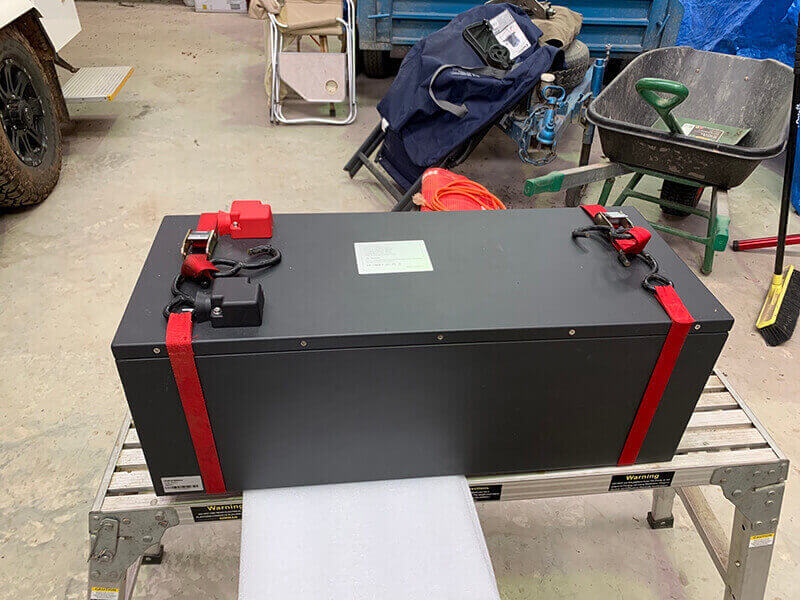 Introduction
Our client M.C.H uses a 1x600Ah 12V Polinovel lithium battery to replace 4x120Ah lead-acid in his trailer vehicle and is charged from an EPC 3000W solar inverter.
Overview
Our customer reaches us when he seeks a suitable battery for his trailer to take over rough terrain. He has a 200amp solar charger inverter that runs from the main power or generator and hopes to upgrade the existing 4x120Ah lead-acid to lithium batteries with better performance. The M8 terminals should be on top to be safer.
Challenges
Our customer's upgrading solution would address three important issues:
First, the battery needs to be strong and durable enough to withstand bumpy working conditions.
Next, he wishes the new battery could be compatible with his existing solar system without much change and provide cost-saving overall.
Finally, battery safety should be considered, and increase the capacity to extend run time if possible.
Results
After in-depth communication with the customer, we learned more detailed information about the existing system and proposed customizing the 12V lithium battery subject to the available space size. The battery was packaged in a single case that could save space and simply wiring compared with several batteries in a series-parallel connecting solution. In addition, maximize the usable capacity to 600Ah.
The interior of the battery adopted the high-capacity prismatic lifepo4 cells. They were laser welded and screw-locked into a battery module by high-standard nickel chips, featured with an intelligent 200A high current BMS to match the original solar inverter. Both battery modules and BMS were fixed to the iron case by screws to ensure battery stability and safety. Furthermore, the M8 terminals on top of the case were equipped with waterproof and fireproof ABS caps to minimize the potential risk of short circuits due to wiring exposure. The customer has approved the proposed solution at one time.
Summary
Customer-first is the core value of our business, we listen to and understand customers' requirements for specific applications of lithium batteries and truly put ourselves in our customers' shoes to recommend suitable battery solutions. Thanks to active communication and professional services, we delivered lithium batteries that met customer requirements on time and were installed in use smoothly.